Pyrene azide 2
| Cat. # | Quantity | Price | Lead time | Buy this product |
| --- | --- | --- | --- | --- |
| A2530 | 1 mg | $110.00 | in stock | |
| B2530 | 5 mg | $210.00 | in stock | |
| C2530 | 10 mg | $310.00 | in stock | |
| D2530 | 25 mg | $410.00 | in stock | |
| E2530 | 50 mg | $695.00 | in stock | |
This pyrene azide is a derivative of pyreneacetic acid. Contains triethylene glycol linker.
An alternative pyrene azide with a shorter linker is also available. A detailed description of the fluorophore can be found there.
Absorption and emission spectra of pyrene fluorophore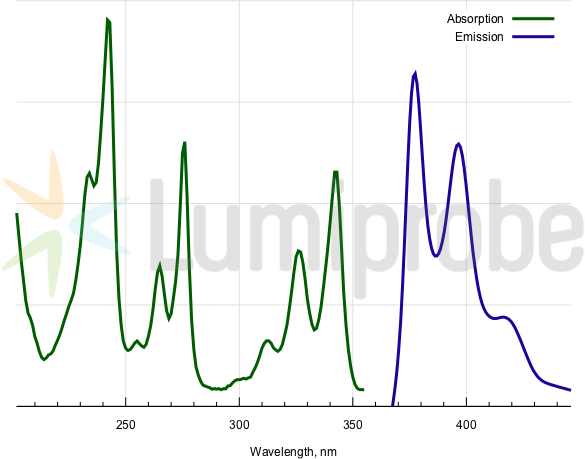 Customers also purchased with this product
BDP 630/650 is a far red emitting fluorophore for Cyanine5 channel. This fluorophore is based on BDP (borondipyrromethene) core, which provides high quantum yield and photostability. This is an amine derivative of this dye.
Add this product to your cart and
get free express delivery
Biotin alkyne is a reactive affinity label which can be attached to biomolecules via Click Chemistry.
Coumarin 343 is a blue emitting fluorophore that can serve as a FRET donor for fluorescein (FAM). This azide derivative can be conjugated with alkynes by Click chemistry. An extended linker arm between the fluorophore and the azide group enhances solubility, and provides spatial separation between the dye and the biomolecule.
General properties
| | |
| --- | --- |
| Appearance: | yellowish solid |
| Molecular weight: | 416.47 |
| CAS number: | 1807512-45-3 |
| Molecular formula: | C24H24N4O3 |
| Solubility: | good solubility in chloroform, dichloromethane, moderate solubility in DMSO, DMF, acetonitrile |
| Quality control: | NMR 1H (95%) |
| Storage conditions: | Storage: 24 months after receival at -20°C in the dark. Transportation: at room temperature for up to 3 weeks. Avoid prolonged exposure to light. |
| MSDS: | Download |
| | Product specifications |
Spectral properties
| | |
| --- | --- |
| Excitation/absorption maximum, nm: | 343; 326; 313; 276; 265; 242; 234 |
| Emission maximum, nm: | 377; 397 |
Product citations
Wanat, P.; Walczak, S.; Wojtczak, B.A.; Nowakowska, M.; Jemielity, J.; Kowalska, J. Ethynyl, 2-Propynyl, and 3-Butynyl C-Phosphonate Analogues of Nucleoside Di- and Triphosphates: Synthesis and Reactivity in CuAAC. Organic Letters, 2015, 17(12), 3062–3065. doi: 10.1021/acs.orglett.5b01346

Your item has been added. View your
cart
or
proceed to checkout

The count of items is incorrect.