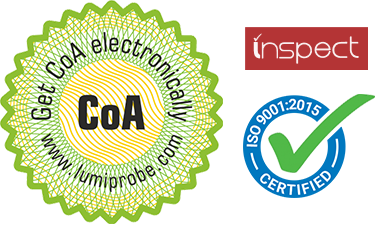 Electronic Certificate of Analysis
Enter the catalog and batch number in the form below and get your
electronic Certificate of Analysis (CoA) online right now:

Please be patient - download may take a few more seconds...
---
What is the Certificate of Analysis?
The Certificate of Analysis (CoA) is a document confirming structure and purity of product batches produced by Lumiprobe.
Lumiprobe provides detailed certificates of analysis. Usually manufacturers do not include primary analytical data in their certificates. By contrast, Lumiprobe's CoAs contain primary analytical data for customers' reference (can be retrieved electronically from this page).
Our Quality Control
Our certificates of analysis usually contain the results of NMR, UV-VIS spectrophotometry, and HPLC/MS assays. Composition and purity are double-checked by an independent QC manager within the Lumiprobe Group so that our customers always receive assured quality products. The quality management system of Lumiprobe is ISO 9001-2015 certified.
Regular Retests
We continuously monitor the quality of product batches by performing regular retests. Each product has an individual retest schedule. When a retest shows that the batch quality no longer conforms to quality specifications this batch is written off.
In our quality control system we store all data on every vial sold. Every customer can be sure that the product quality is excellent as long as it is properly stored and Lumiprobe retests with the batch are positive. In case we identify any quality issue before the end of the shelf life of a particular vial (commonly one or two years after receipt) we will contact each customer who may be affected.

Your item has been added. View your
cart
or
proceed to checkout

The count of items is incorrect.