Pyrene hydrazide
| Cat. # | Quantity | Price | Lead time | Buy this product |
| --- | --- | --- | --- | --- |
| 13570 | 1 mg | $110.00 | in stock | |
| 23570 | 5 mg | $210.00 | in stock | |
| 43570 | 25 mg | $410.00 | in stock | |
| 53570 | 50 mg | $695.00 | in stock | |
| 63570 | 100 mg | $1190.00 | in stock | |
Pyrene hydrazide is a carbonyl reactive dye for the attachment of pyrene polycyclic aromatic hydrocarbon residues to aldehydes and ketones.
Pyrene is a blue-emitting fluorescent label which is especially useful as a proximity probe. When two pyrene residues are located close to each other, a longer-wavelength excimer fluorescence can be detected. Pyrene can also be FRET donor to other fluorophores. Its excited state possesses an unusually long lifetime of more than 100 ns, which allows to use this fluorophore in time-gated experiments.
Absorption and emission spectra of pyrene fluorophore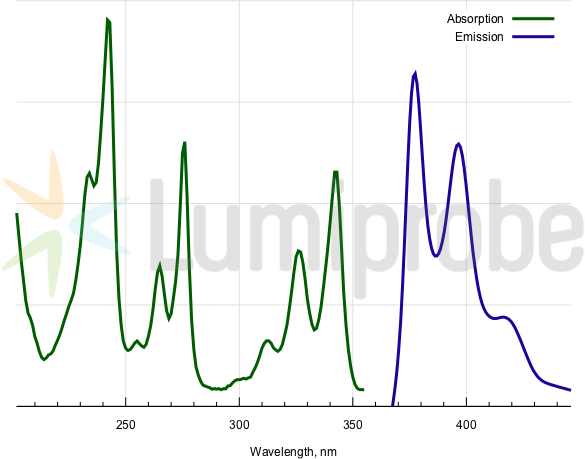 Customers also purchased with this product
Pyrene NHS ester for the labeling of biomolecules with pyrene residue. Pyrene is a fluorescent proximity probe which forms excimers, and it is also an anchor group for graphite immobilization.
Sulfo-Cyanine5.5 is a far red/NIR fluorophore possessing high hydrophilicity and aqueous solubility. The dye displays good brightness in far red region due to outstanding molar extinction coefficient. This is amine derivative which is reactive towards electrophiles. It can also be used for enzymatic transamination labeling.
Pyrene maleimide derivative for the labeling of thiol groups. Pyrene is a useful excimer-forming proximity probe.
General properties
| | |
| --- | --- |
| Appearance: | off white solid |
| Mass spec M+ increment: | 284.1 |
| Molecular weight: | 338.83 |
| Molecular formula: | C20H19ClN2O |
| IUPAC name: | 4-(1-pyrenyl)butyric acid hydrazide hydrochloride |
| Quality control: | NMR 1H, HPLC-MS (95%) |
| Storage conditions: | Storage: 24 months after receival at -20°C in the dark. Transportation: at room temperature for up to 3 weeks. Avoid prolonged exposure to light. Desiccate. |
| MSDS: | Download |
| | Product specifications |
Spectral properties
| | |
| --- | --- |
| Excitation/absorption maximum, nm: | 343; 326; 313; 276; 265; 242; 234 |
| Emission maximum, nm: | 377; 397 |

Your item has been added. View your
cart
or
proceed to checkout

The count of items is incorrect.